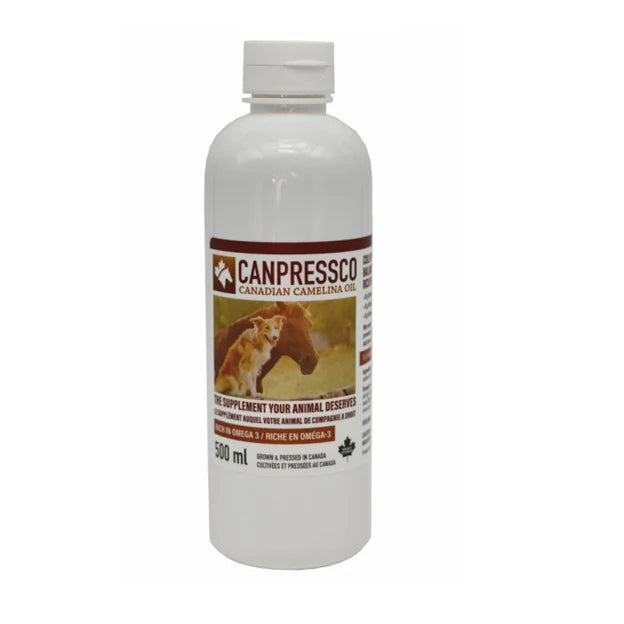 Port Perry Feeds
Canpressco Camelina Oil - 500ml
The Supplement Your Horse Deserves - 100% Canadian Grown and Made. Also suitable for Dogs and Cats
• Ancient Non-GMO oilseed
• Powerful source of Omega-3
• all natural; cold pressed
• balanced Omega-3 to Omega-6 profile
• transparent roots
Benefits to Omega-3 Supplementation

The balance of Omega-3 and Omega-6 in a horse's diet is very important. Both nutrients have important functions within the body, and balancing the two is imperative in order for them to function appropriately. Because horses are herbivores and grazers, their bodies are naturally inclined to having a higher level of Omega-3 compared to Omega-6. However, due to the Omega-6 found in grain rations, this ratio is often thrown out of balance; hence the need for Omega-3 supplementation.
Omega-3 Supplementation has been shown to:
• Improve the quality of skin and hair coat
• Decrease joint pain in horses that suffer from arthritis
• Improve bone structure
• Help prevent ulcers
• Help with allergic hyperactivity
• Have anti-inflammatory effects
Ingredients: expeller pressed camelina sativa seeds

Equine Dosage: 30 ml given twice daily during or after meal times or 60 ml at one meal.
Canine & Feline Dosage: 5 ml per 25 lbs once per day.
Storage and Shelf Life
Light is very detrimental to cold pressed oils so it is advised to store camelina in tinted or solid colored containers. Refrigeration is not required but it is optional and may help ward off rancidity.
Do keep in mind that once a container is open, the more head space within the container to allow for oxygen, the faster the oil will break down. Therefore we recommend regular use of the product and if there is concern, you can transfer the contents to a smaller container as you move through the life of the product.
---
Share this Product
---
More from this collection